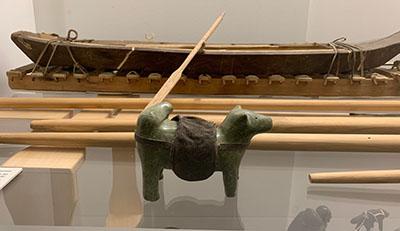 Saturday March 16th, 1:00pm – 4:00pm
Nunatta Sunakkutaangit Museum holds a unique collection of more than 500 artefacts, ethnographic objects, art pieces and prints, as well as hundreds of photographs and slides, which represent aspects of Inuit heritage, culture and art. As a part of the museum's Collection Management Project the Museum is updating the inventory of its collection and would like to gather additional information about the objects and prints from elders through a community engagement workshop. This community engagement is to strengthen the relationship with local elders and to gather stories on collection items through traditional knowledge.
Come and listen to the stories from elders on samples from the Museum Collection. (Inuktut/English translations will be provided)
Elder:      Alasie Joamie
                  Aimo Muckpaloo
 
This project is made possible by the generous contribution from Canadian Heritage, Government of Canada.