-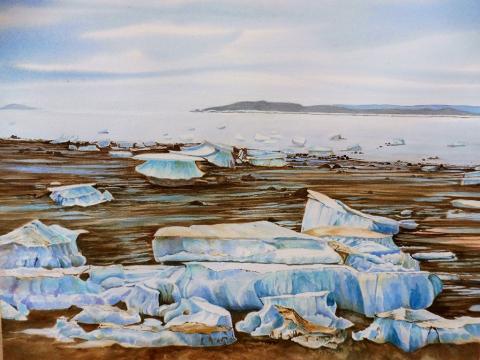 Janet Ripley Armstrong
Janet Ripley Armstrong is an Iqaluit based artist who has lived in Nunavut since 1975. 
Janet was born and raised in St. Thomas, Ontario, but in 1970 she left the 'south" for an adventure in Yellowknife, NWT… which she found working as a photographer / reporter for News of the North. She stayed in the North and gradually made her way across to the Eastern Arctic in 1975, where she began a teaching career in Arctic Bay. 
Over the past 43 years, Janet has traveled extensively throughout Nunavut in her work both as educator and artist. These early years in the Eastern Arctic form the inspiration for many of her paintings. 
Janet works primarily in watercolour, always trying to capture the "essence of the moment". Subject matter varies, from delicate tundra flowers to landscapes and portraits. Her work has been exhibited throughout Nunavut and the Northwest Territories, with paintings now in private and corporate collections across Canada and the USA.